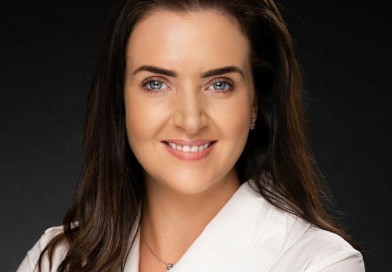 Charlene graduated from the renowned Fernanda Scapatticci College of Beauty Therapy in 2005, the College thought so highly of Charlene they invited her back to work alongside them in their college, it was here where Charlene was fortunate enough to be trained by the renowned Fernanda Scapatticci herself CIDESCO international examiner and who Charlene credits with evolving her into the therapist she is today.
Championing Skin Therapy now for over 18 years Charlene thrives on the problem- solving aspect of skincare, determining the external and more importantly, internal problems that can cause concern.
Touch and Glow is grounded in the belief that changing your skin can also boost your confidence and transform your life. Taking a simple, individualised and scientific approach to every face we see, it allows our team to tackle challenges big and small, so as to heal, regenerate and replenish skin for genuine glow, clarity and  long lasting results.
In 2015 she was awarded as an NSI educator and she is now an NSI educator for Nail Systems Ireland. Charlene teaches on site in her clinic in Carrickmacross.
Touch and Glow have also been nominated and placed as winners and finalists in the IIAA Salon of the Year Awards for the last 9 years for Jane Iredale and Environ. The clinic was crowned Platinum Salon of Excellence 2022 earlier this year as a prestigious awards Ceremony hosted in London by the IIAA.  The Clinic won Beauty Salon of the Year at The Irish Hair and Beauty Awards for 2016. In 2017 they won Best Nail Salon of the Year in The Irish Hair and Beauty Awards and Charlene herself was finalist as Beauty Therapist of the Year along with the clinic being a finalist again for Beauty Salon of the year. In 2018 & 2019 Touch and Glow won overall Winners of Best Beauty Salon for the Irish Hair and Beauty Awards. In 2019 Touch and Glow was also awarded a Business all Star award.
"I'm very proud to work with like-minded people that are dedicated, uplifting, kind and focused.  This is what has helped me mould the successful Clinics I have today. All of my therapists are sent on rigorous training and are constantly updating their skills to meet the needs of all our clients.
Every member of the Touch and Glow team is carefully selected to ensure they complement and enhance the environment that has been so carefully crafted for our valued clients. I am extremely lucky to have such an incredible Team of girls."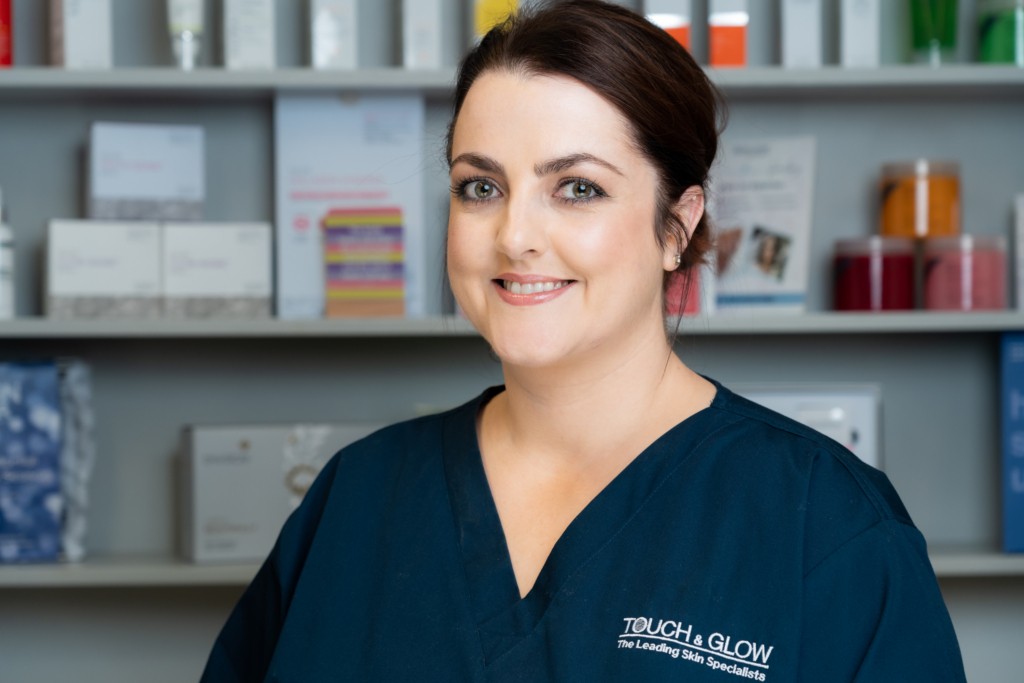 As a long performing Skin & Laser Specialist, I can assure you that this industry moves at an extreme pace & is always inventing & incorporating the latest and best technologies to offer the greatest results to our clientele.
This is why after 17 years; I am still as excited as ever to work within such an industry where I have the opportunities to up-skill in my extensive knowledge of all things skin and laser and have chosen to continue doing so with Touch & Glow.
I have been with the Clinic for over 5 years now and I can honestly say that the depth of training and opportunities achieved here is like nothing I have experienced elsewhere within this industry and is of the highest of standards. To know that we can offer this knowledge to our clients and help them further along, whether it be your skin or laser journeys, is just so rewarding. Most of you with whom I have had the pleasure in consulting with or performing treatment on, will know the passion I have for all things Skin and Laser and I really do hope that this shines through when visiting me and
our team here in the clinic.
My many years of knowledge, training, up-skilling and performing treatments on my clients to achieve the best
results possible has led me to win 'Beauty Therapist of the Year', an amazing achievement for me and a real highlight in my career.I have just recently furthered my IPL knowledge with the Nordlys IPL System; this is next level – very results driven, so you will hear me directing you towards this as 'real results' is definitely my thing.
I am also a Phi-Brow Artist here in the clinic, something which I have always had a real interest in is brows. Even back when over-tweezing was a real thing, I was always pro fuller, more natural brows, eyebrows definitely define the face and for me these are one of our most important of all facial features.I am very proud to work alongside Charlene & our great team in such an amazing, prestigious clinic and I always look forward to meeting and welcoming all of our lovely clients where we can take your results to the
next level.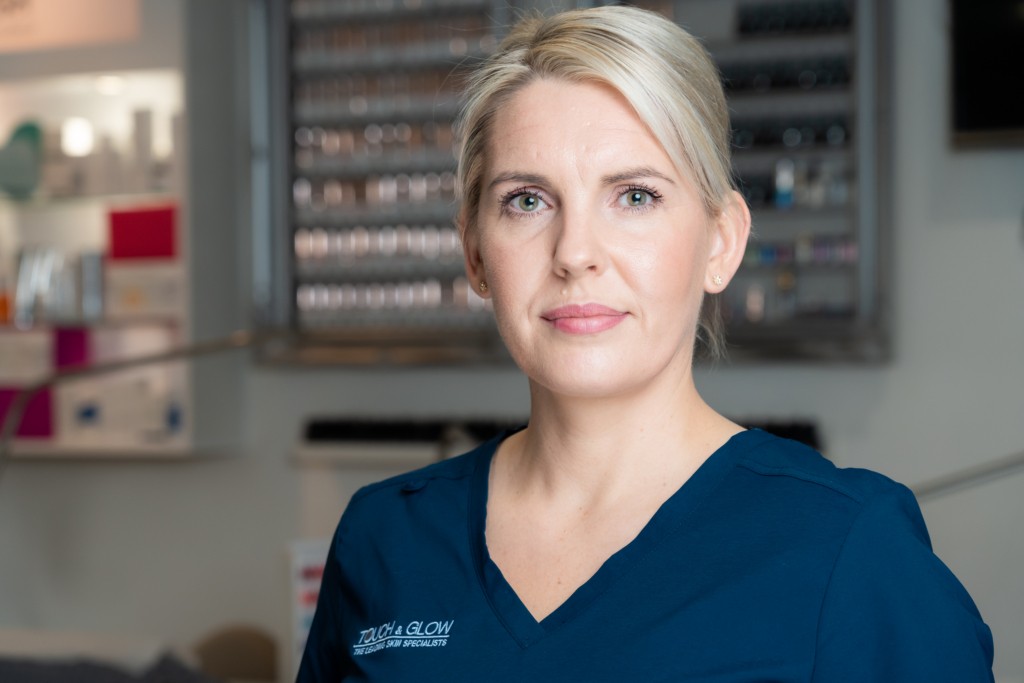 Having recently graduated as a Beauty Specialist, I am now continuing to further my studies in Advanced Skincare treatments. To date, I am absolutely loving this and I feel this will be my main area of passion within the industry. Helping people feel their utmost best and achieve their skincare goals is something I love to do and I look forward to learning so much more about this and upskilling with Touch & Glow as this is what they are best known for.
I have many years' experience working within the customer service and hospitality industry and truly enjoy interacting with all customers and helping them enjoy their customer experience with us.
I have really been enjoying working with Touch & Glow so far, all the team and clients have made me feel very
welcome and everything in the clinic is done extremely professionally.I have been really enjoying all of the lovely pampering treatments such as pedicures, manicures, brows, waxing & massage.
I cannot wait to meet you all over the coming months and I am very much looking forward to treating you & taking care of all your beauty needs.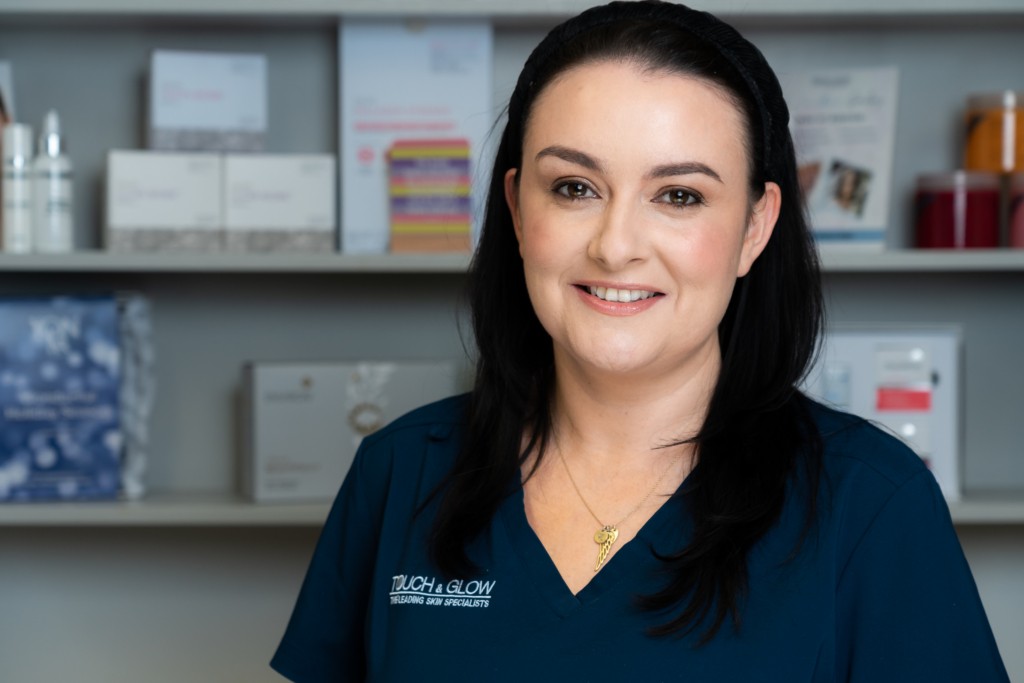 Hi my name is Natasha, I recently joined the Touch and Glow team as a Front of House Receptionist and work within both our clinics.
As well as being front of house, I also work as a Makeup Artist &Tanning Specialist for the clinic. I am actually a fully qualified Beauty Therapist & completed my beauty education with Fernanda Scapaticci – College of Beauty in 2003.
I have many years' experience and have been working within the beauty industry for 18 years now. From a very young age I have always had such a passion for all things Skincare and Makeup. 
In 2010, having worked in Salons and Spas for 7 years, I decided to pursue a lifelong ambition of living and working in Australia. It was here that I got the opportunity to work for Benefit Cosmetics where my love for all things Brows and Makeup grew even further.
After 6 years in Australia, I returned home & started a new venture working with both Brown Thomas and Arnotts for luxury brands such as Tom Ford, Bobbi Brown and Laura Mercier which has seen me gain immense
experience within both this sector & customer service.
I am very excited to now be part of such an amazing team here at Touch and Glow and I look forward to welcoming you all in for your fabulous treatments & looking after you for your Makeup & Tanning needs.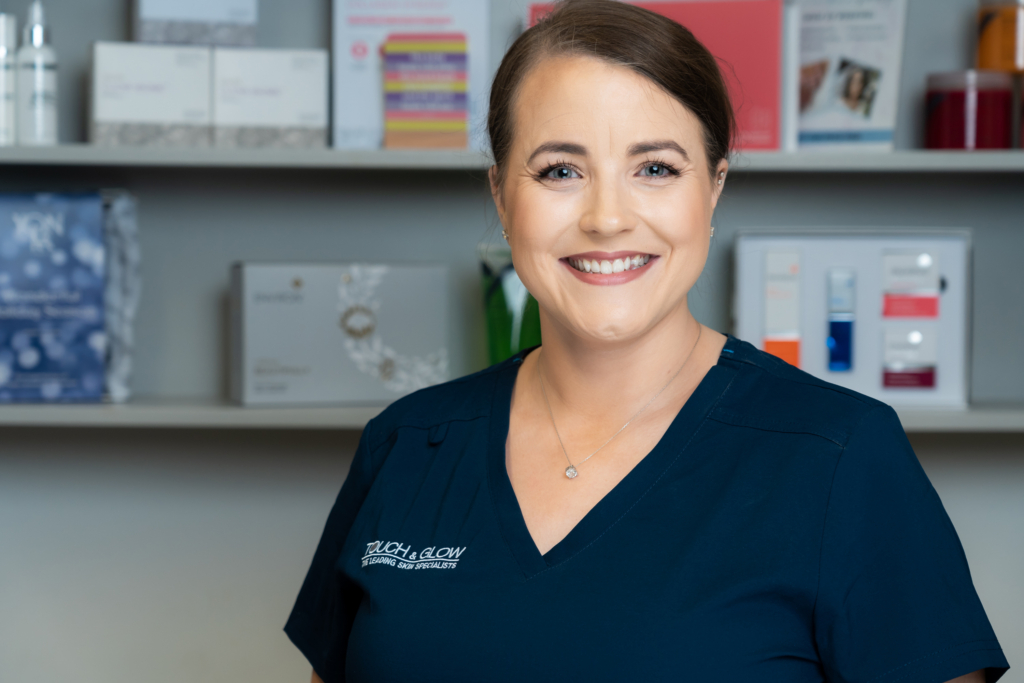 Selena graduated from Southern Regional College in 2010. Selena was part of the team at Touch and Glow when we first opened but she then moved to Canada for just over 2 years. While in Toronto she worked in a spa doing both Front of House & Massage Therapies.
Since re-joining Touch and Glow in December last Selena has completed training in Environ Skincare Level 1 & 2, Advanced Nutrition Programme, Image Skincare Level 1 & 2, Lycon Waxing, Acrylic nails, LVL lashes, iLash lash extensions & Threading. Since doing all the training Selena has grown a passion for Acrylic nails & Lycon Advanced Waxing. Selena promises to make every treatment as relaxing as possible, and looks forward to welcoming you all with her friendly, calm manner.
"I love coming into work to see a full diary and it's great to be able to offer such an array of treatments.'' What Selena loves most about working at Touch & Glow is the ongoing training; this allows her to give the best possible service to our lovely clients. ''I enjoy all the craic with all of my work colleagues and look forward to work every day."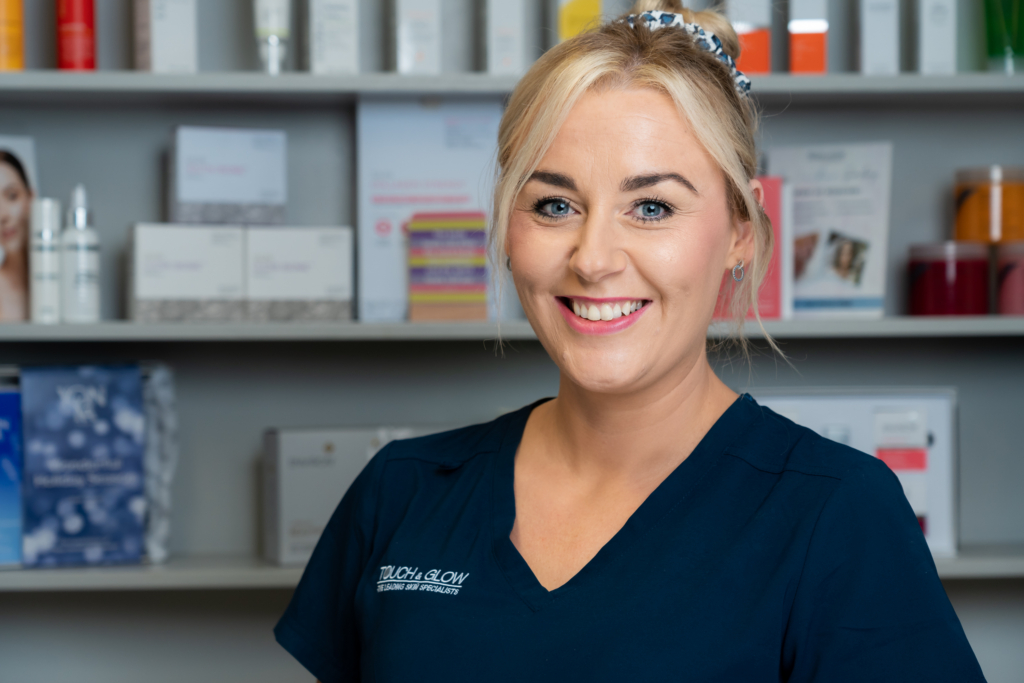 Hello everyone, I'm Kimberly and I have recently joined the Carrick clinic.
I am a well experienced Senior Skin, Beauty & Laser Therapist with over 15 years' experience working in all aspects of the beauty industry and have mainly been based in Dublin previously.
My main focus and passion is most definitely skin and laser treatments.
I love to see the amazing transformations that can be achieved with skin and knowing I have helped my clients gain more confidence while achieving incredible results is such a rewarding feeling.
With prescribing the correct in-house treatments and homecare – the results can really be life changing.
Having previously worked with many of our brands, I have already advanced my knowledge in skincare, attending refresher courses for both Image and Environ Skincare since joining the clinic.
I'm very excited now to be introduced to all the other skincare brands that we offer within the clinic and will now gain my qualifications with DMK and Advanced Nutrition Programme Supplements also. I hope to continue to expand my skin knowledge even further over the coming years.
I really enjoy working in Touch and Glow.
I do feel we are extremely customer focused, we deliver amazing results and of course with a wonderful team of therapists who are very highly skilled in what they do.
I love going into work and I look forward to growing my career here.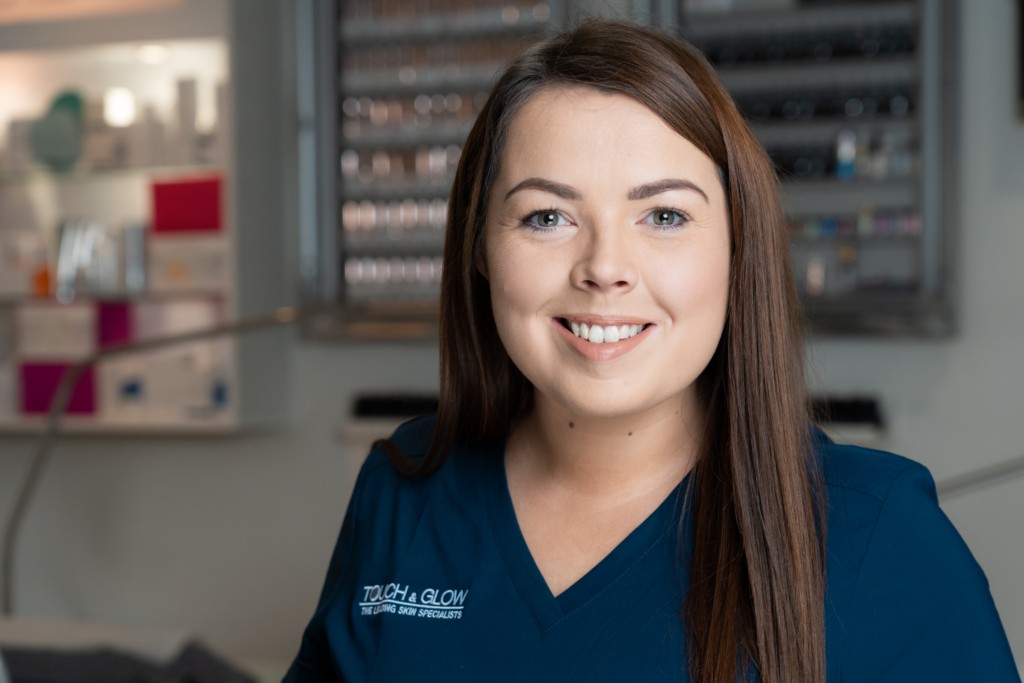 Hi, I'm Cathy, I have been part of the Touch & Glow Team since 2017 and I am the Front of House Manager within our Ardee Clinic.
I am also a Tanning Specialist in the clinic, something which I love to do, so rest assured, I will have your looking and feeling your very best for that special occasion.
Having graduated in 2014 with a qualification in Hairdressing and then in 2015 as a Nail Technician, I have worked in many areas of customer service & salon environments for the past 8 years after gaining invaluable experience. 
I have loved attended the training with all of our skincare and laser brands, including – Environ, DMK, Ultraceuticals & Image Skincare as well as Candela Laser Hair Removal to ensure I can best help & guide you with any questions & queries you may have on any of our skincare and treatments.
I love meeting and attending to clients, and hope to always ensure that each client that comes through our doors receives the best possible service and customer journey on each visit to the clinic.
I really do love being part of such an amazing team of girls in such a highly regarded clinic with an incredible progression of opportunities and ongoing training to further myself with some of the best brands and treatments available within this industry.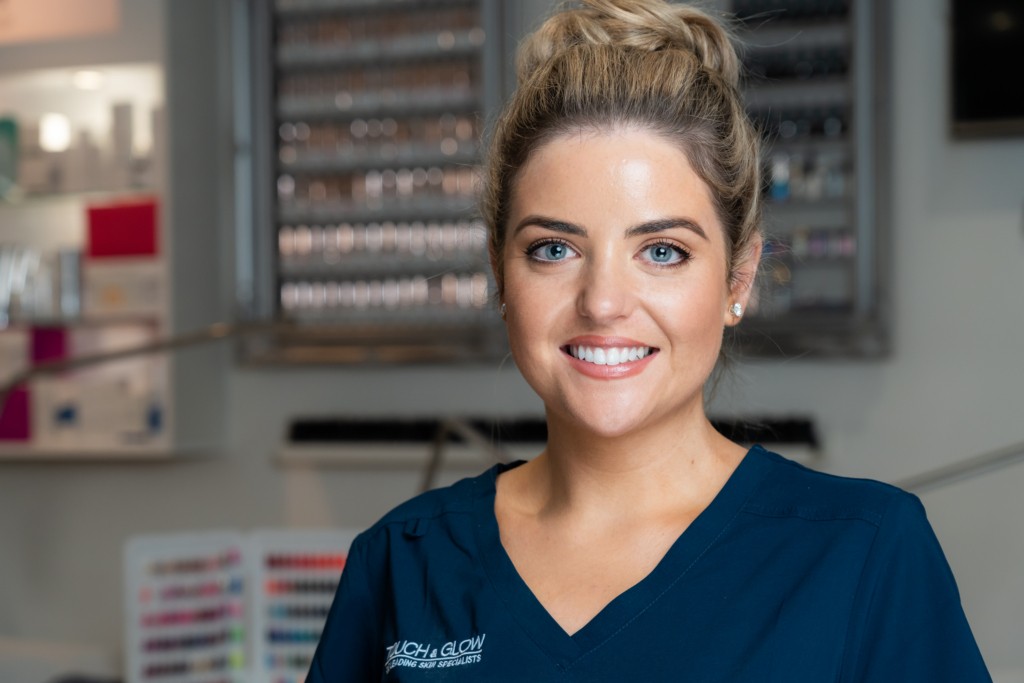 Hi I'm Rachel, I am a Skin and Beauty Therapist and have qualified from Cavan Institute back in 2011. 
I have worked as a therapist in some of the most prestigious clinics and spas in many areas.
With my growing experience and knowledge, I then decided to venture into opening up my own business in 2016 which was a great success for over 6 years and I loved every minute of it.
My favourite treatment to perform is Micro-Needling, very much a results driven treatment, which is why I love this so much and most recently retrained in the newer of systems 'Rejuvapen' which we offer here in clinic. My main goal is to help all my clients as much I possibly can to work towards achieving their skin goals and succeeding with visible results.
I have recently developed and furthered my skills with Dmk Skincare and also Candela Laser Hair Removal which is one of the reasons I love working with Touch and Glow as there is endless opportunities to develop here. I love working with the laser and I have to say the results are just incredible. 
Working within the clinic, I get to work with all these amazing brands and treatments and also alongside the best group of girls.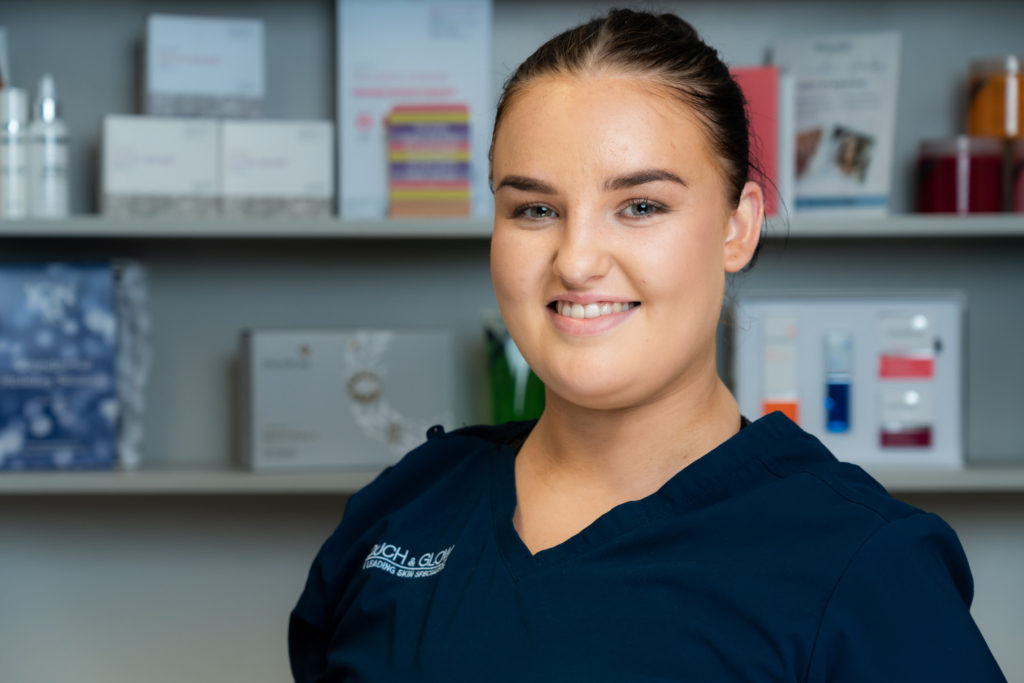 Hi I'm Hollie, I recently graduated as a Beauty Therapist and have since joined Touch & Glow.
So far, I have loved being a part of the touch and glow team and getting to meet everyone.
Since joining the clinic, I have already gained so much knowledge of both skin & beauty treatments & have loved all of my new trainings, some of which are Environ Skincare, Nordlys IPL, HD Brows & LVLs.
This has made me even more passionate about the industry & I really look forward to progressing my career much further with all these brands.
I have loved meeting new people and performing all these new treatments, I have gained so confidence since starting and I really enjoy coming into work every day. 
You may find me on the nail bar or in the tan room, two of my favourite places, helping get you ready for the weekend. When not doing beauty treatments, I have been studying hard in all things skin, this is an area I really want to progress in and further myself with, so I know Touch and Glow is definitely the best place to guide me towards this.
I am very excited about my future with Touch & Glow & look forward to meeting you all & looking after all your beauty needs along the way.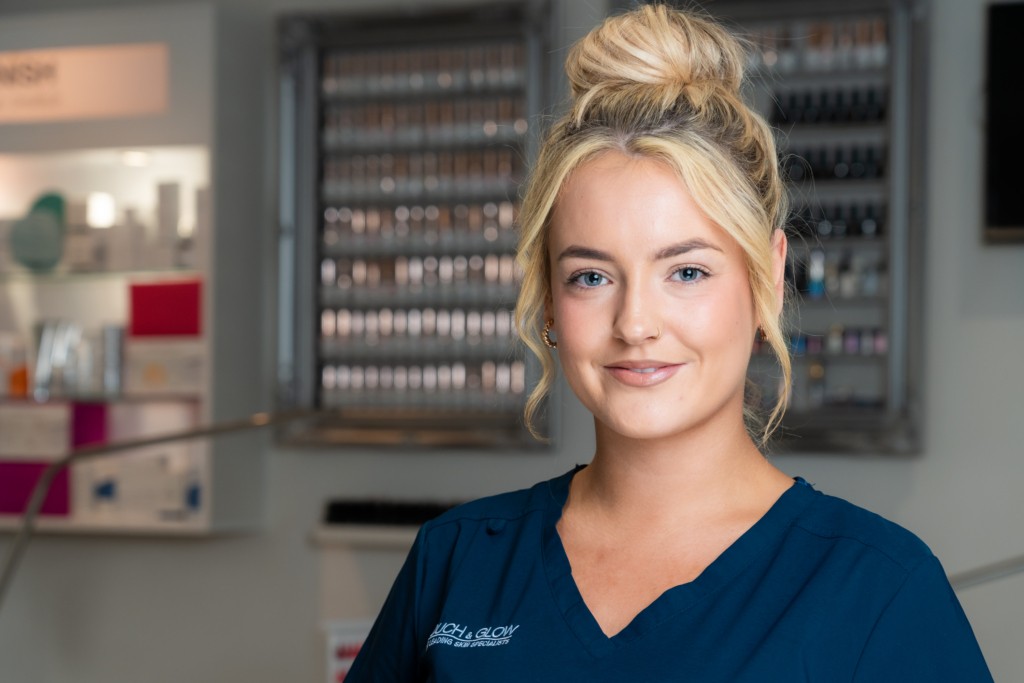 I have recently just joined the Touch and Glow team in Ardee Clinic as a Beauty Therapist. To date, I have worked in other clinics and have a lot of experience within the Beauty/Spa environment.
My reason for joining the clinic here is to pursue my career more into skincare. I have already completed Ultraceuticals and Environ Skincare, Rejuvapen Needling and Advanced Nutrition Programme, so I have been loving all the training and getting straight into the treatment room and performing the treatments. 
I enjoy all aspects of beauty treatments, its nice to have a mixture of both the beauty and the advanced skincare in your day as your keeping up to date with all the newest trends.
The clinic also offer Advanced Laser therapies which was one of my favourite studies at college so I am really looking forward to studying this more and advancing my skillset.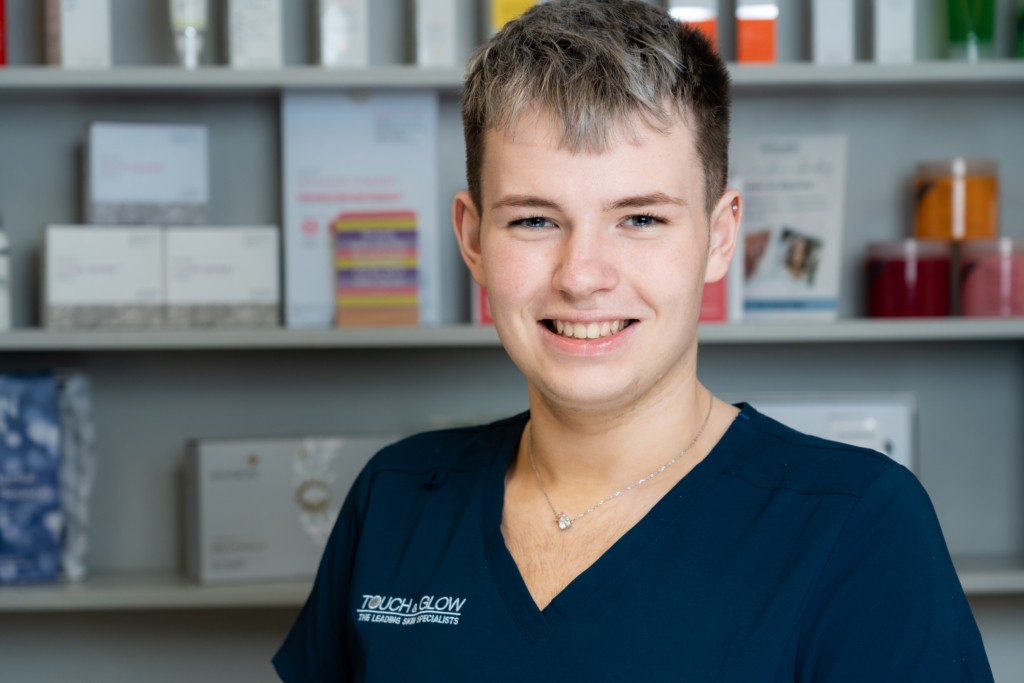 I first qualified as a Beauty Therapist in 2021 and very quickly realised that nails was going to be the direction I would take my future career in.
From there, I went on to study nails further with different courses and soon qualified as a Nail Technician. I cannot even tell you how passionate I am and just how much I enjoy looking after and creating all things nails, this is something I was very taken with from a young age.
With Charlene being a Nail educator herself, she has really helped guide me and from this I have learned so much and have become much more creative. 
One year on from starting with the clinic, I have built up such a lovely, regular clientele and I love having the chats with everyone, its such a great atmosphere at the nail bars.
I have also now qualified in HD Brows and LVL Lashes. Again these are the kind of treatments that bring out my more creative side which I love.
 I can honestly say, I so enjoy arriving into work every day, doing what I thoroughly enjoy and sharing my experience with a lovely team.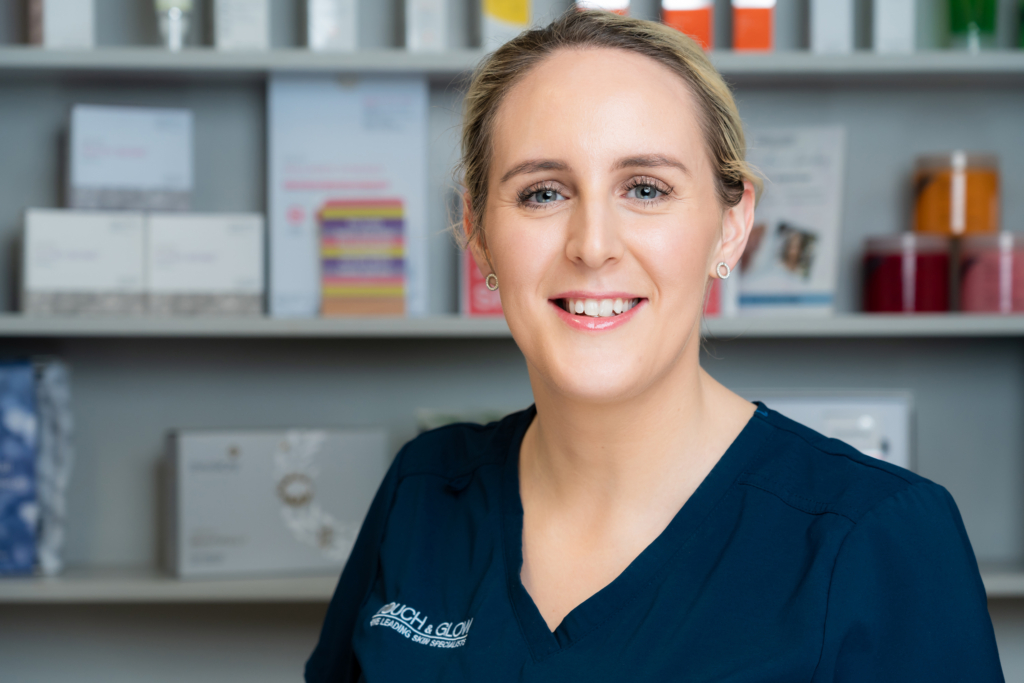 Jade is a fully qualified Beauty therapist and has previously worked with us as one of our clinic coordinators & make-up artists in both Carrickmacross and Ardee Clinics.
She has 7 years' experience within the beauty industry and in customer service, working for Yves Saint Laurent Beauty for 2 years where she was Ireland's leading makeup artist on their team in which she carried out and led events in different stores across the U.K. and Ireland.
Having missed the hands-on side of beauty, Jade has now transitioned back into the treatment rooms where she is loving spending time with her clients as well as fulfilling all their beauty needs and building a great relationship with them.
"Since being with Touch and Glow for the past 3 years, I have progressed so much as I've been sent on various training programmes to help better my skills in order for our clients to have the best experience possible in our clinics. I love all areas in my role as well as specialising in Bridal spray tanning, HD brows, makeup artistry and advanced waxing. I love being part of a friendly and passionate team as well as having good fun with everyone.
I have also recently trained in our healthy Skincare Supplements – Advanced Nutrition Programme and DMK Skincare so I cannot wait to start some of you on your new skincare journeys with us."
Jade is also very popular for our results driven Mini-Mi body wraps and our much sought-after pedicures.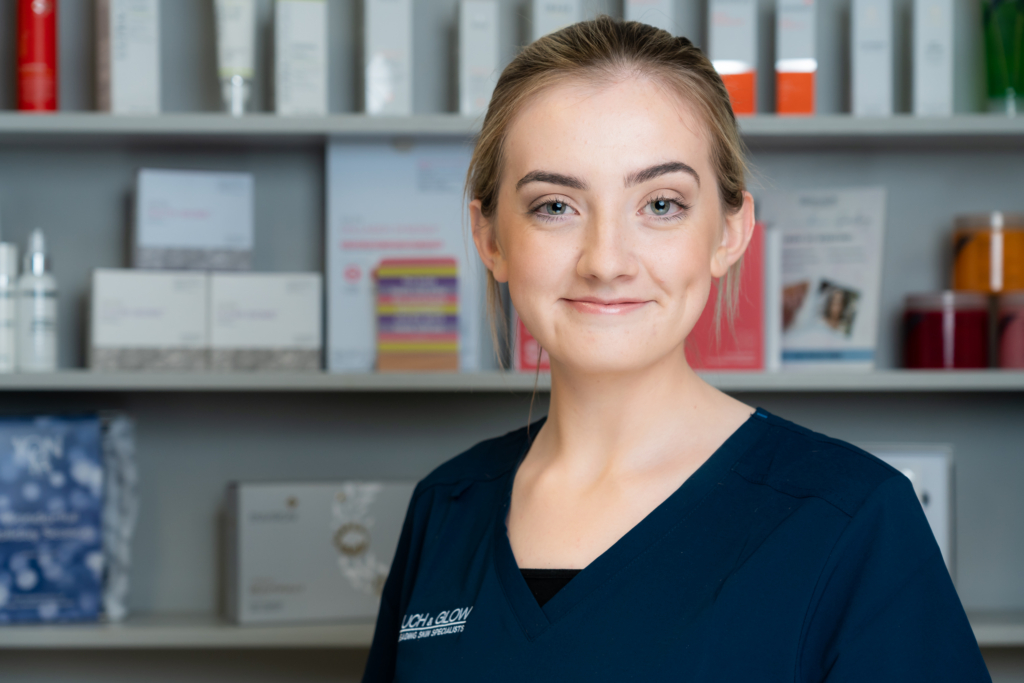 Nicole joined us earlier this year on her work experience. Nicole is excited to enter into the world of beauty and is excited to grow and learn further at Touch and Glow.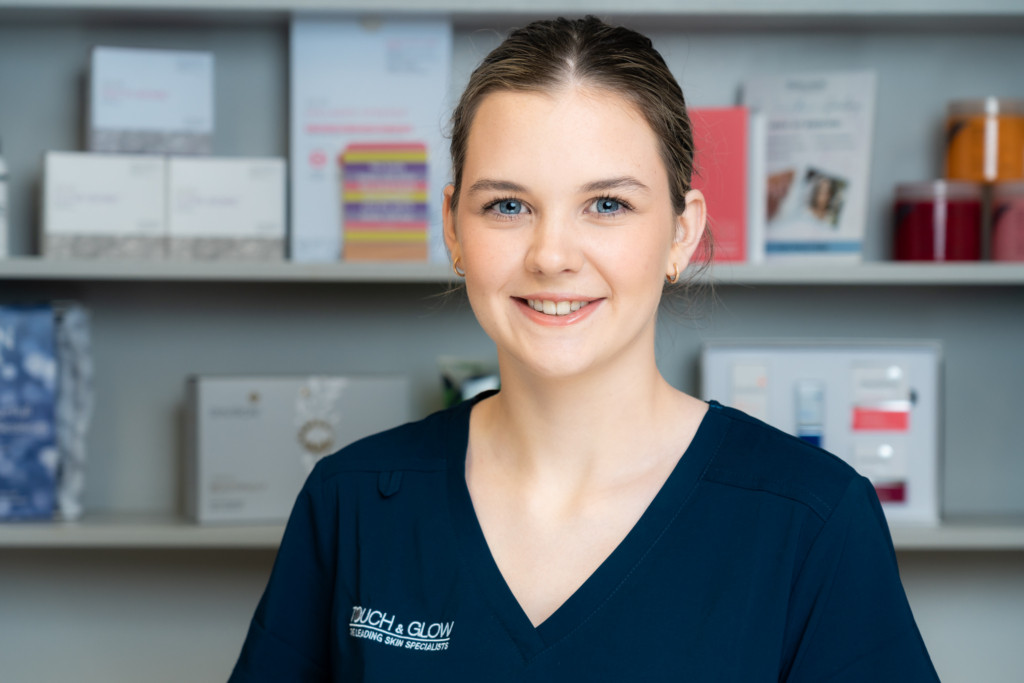 My name is Ellie and I just recently joined touch and glow in October 2022 as a beauty therapist. I completed two years in cavan institute, graduating in May 2022 with itec and cidesco qualifications. I have a year experience working in a spa. I have recently completed training in advanced nutrition and DMK and I am looking forward to doing more training and treatments. It's great to work alongside the touch and glow team as everyone is so friendly and helpful.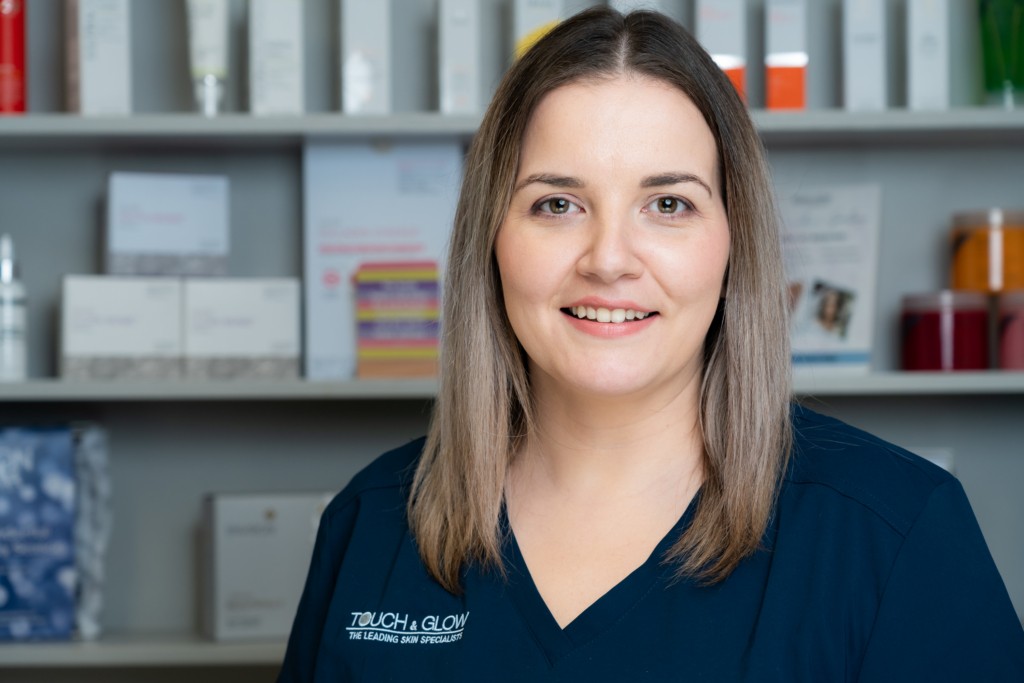 Louise has been part of the Touch and Glow Team working as Front of House Receptionist since September 2017. She has worked in customer service for the last 5 years. Louise has recently qualified in Acrylic Nails with Touch & Glow Training Academy & will leave no set of nails undone. Louise has also completed a course with a business expert to ensure the best customer care is given to all our clients.
She has a very friendly & bubbly demeanour; this can be seen by every client as they walk through the door. She helps maintain a calm & efficient salon environment & prides herself in the highest standard of customer service ensuring all clients at Touch & Glow leave feeling happy.
Louise's favourite part of working in Touch and Glow is that she is always learning something new with fantastic training and working with a great team of girls, everybody helps each other.
Emma first joined the Touch and Glow team back in 2015 and she will be working between both our Ardee and Carrick clinic.  
When Emma left team Glow, she went to work on board cruise ships for a five star Spa company taking her all over the world. She specialised in a detoxing lymphatic treatment which helped many people all around the globe to achieve goals such as weight loss and cellulite reduction. Emma's passion, drive and care for her clients brought her to management for this renounced company.

After a couple of years at sea, Emma returned to manage and launch a skincare brand in one of Ireland most luxurious department stores. Rewarding and challenging, Emma knew she wasn't done up skilling and learning within the beauty industry just yet!

With advanced aesthetics becoming bigger than ever, Emma has gone back to study at DIFE this year. In only a few months, Emma will be ITEC certified in, IPL and Laser,  Microdermabrasion, Micro needling and Peels.

Emma's loves all things beauty, from that perfect brow transformation to taking a client on a skincare journey to help them achieve astonishing results.

"I'm ecstatic to be back working at Touch and Glow and with such a driven and fun team. I am most excited to be back preforming skin care treatments. The industry is constantly evolving and so many people consider harsh, abrasive treatments. With my expertise combined with the Clinics award winning skin care brands and treatments , I can help you achieve your goals naturally.
I'm super excited to see familiar faces and meet all new clients"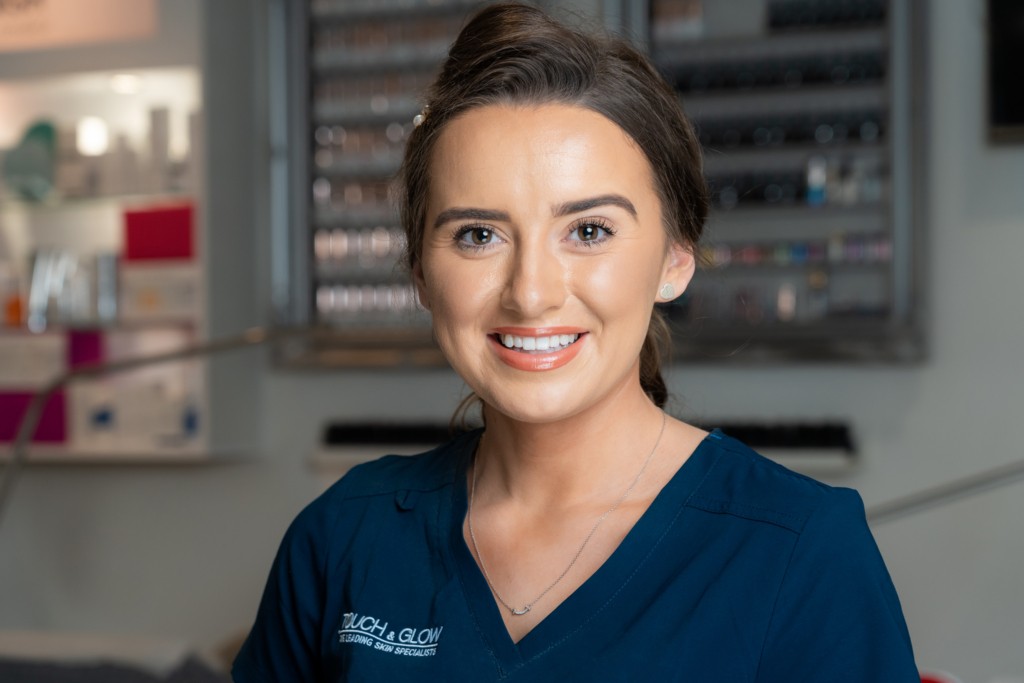 I love working in Touch and Glow Skin and Laser Clinic the challenges it brings and meeting all the lovely clients who come through the doors.
Since beginning working at Touch and Glow I have been given endless opportunities to train with some of the most popular brands within the Beauty industry and treatments constantly expanding my knowledge and learning. Ive recently completed training in Lash Extensions, Environ skincare, Image skincare, Dmk skincare Acrylic nails and Henna brows to name but a few.
My favourite treatments are lashes, brows, nails and pedicures. I love being part of the Touch and Glow team working alongside an amazing group of girls who are so helpful and encouraging and meeting all the lovely clients.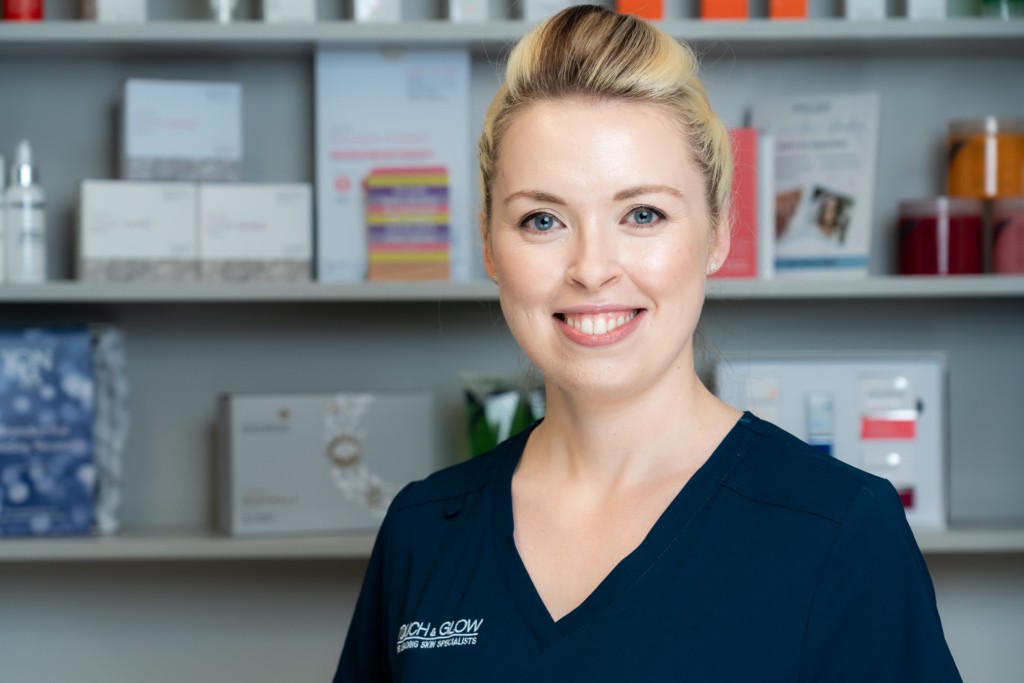 Agnes graduated from Cavan Institute in 2010 after studied Hair& beauty therapy and receiving student of the year in her class.
Agnes has worked in a 4 Star spa for over 11 years where she gained her vast experience and extremely high standard for all her treatments.
Agnes advanced her career from Beauty therapist to In-house trainer & Spa Supervisor as she completed her ITEC Certificate in Education and training in 2017.
"I have a passion for all areas of beauty especially skincare and massage. I love meeting new people and seeing how happy each client is when they achieve the results they want to achieve with their skin or after their massage. From gaining my experience in the spa industry and having trained in Yonka and ESPA products, I know how important it is to focus on my clients concerns in order to gain the best results."
Agnes has always had a passion to extend her knowledge of the beauty industry which led her to broaden her skills and abilities even further.
"Since joining Touch & Glow I have definitely advanced my skills in the beauty industry by completing so much brilliant training.
I have trained in some fantastic skincare brands such as Environ, DMK, Image skincare and Advanced Nutrition Programme. I am trained in HD brows, LVL lashes and I have also qualified in Candela Laser Hair Removal, Rejuvapen Micro- Needling, CACI and most recently in our Brand new IPL Nordlys system.
"From all my training I can say my passion  for skin and laser has grown immensely and I love  been part of Touch & Glow as it focuses on outstanding skin and laser results for all its clients."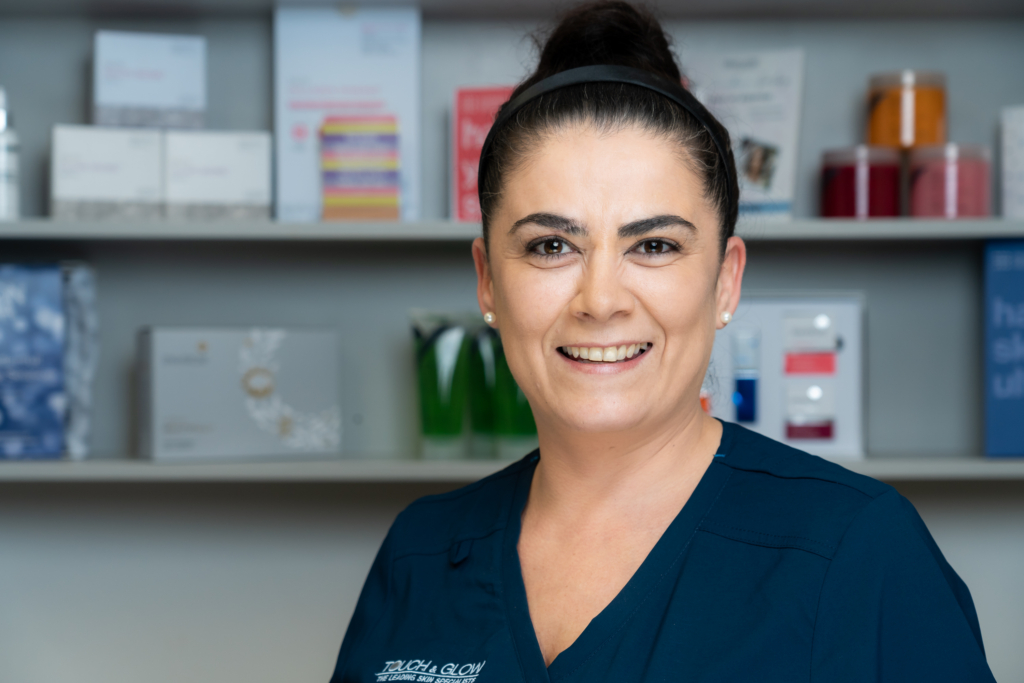 Emma is part of our front of house team and has been with us since 2018 with 15 years experience working in the customer service industry. Emma loves meeting new people and creating long lasting relationships and absolutely loves her job and her Touch & Glow team.
Emma has completed extensive training in many of our skin care brands including Environ,  advanced nutrition programme, Image skincare, Skinformulas, DMK, Jane Iredale, ultraceuticals , skingredients and also Dermalux .
Emma's friendly, bubbly demeanor will be evident as soon as you walk through the doors of Touch & Glow. She strives to make all our clients feel at home and has a very calming impact on all clients and staff.
Emma says " I absolutely love working in Touch & Glow and meeting new and existing clients. Making them feel welcome. We our a great team and all look out for each other. There's nothing better then walking into a job you absolutely love. It's true that if you love what you do you will never work a day in your life."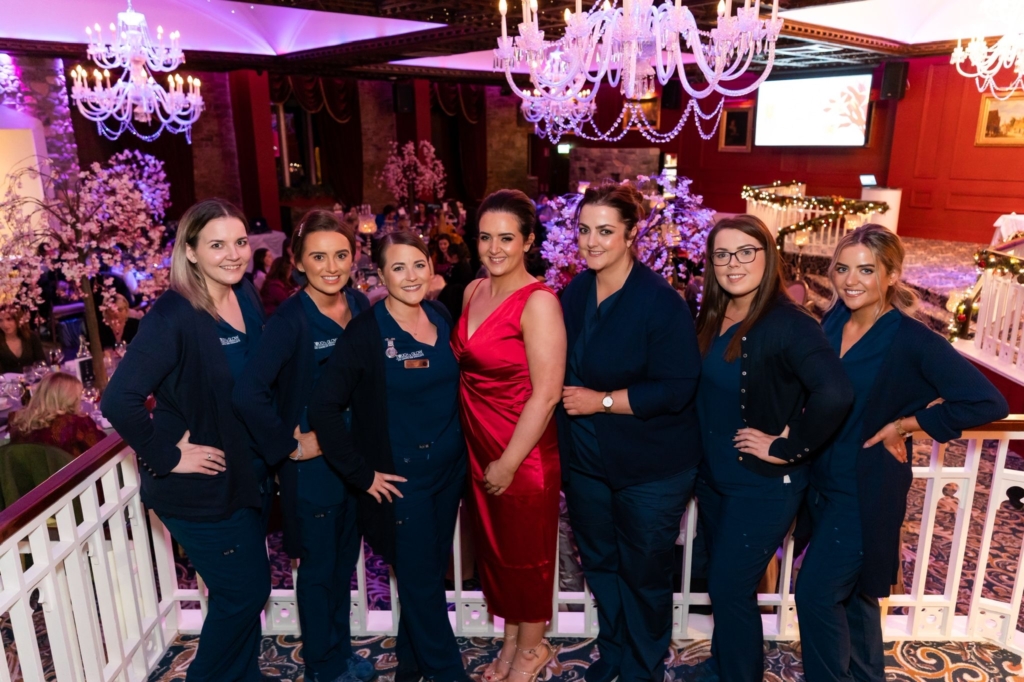 We work for the needs of our clients and not the needs of our own
We love personal development
We are always evolving and re-educating ourselves
We strive for perfection on each client visit
We love the opportunities that change bring us as a team
We are here not because we have to be but because we want to be
In return we have a good work-life balance and a career in an industry that use to just offer jobs
If your looking to change your beauty job into a career, get in touch with us. Email your CV to reception@touchandglowskinandlaser.com