Mini Mi Inch-Loss Body Wraps
Minimi ( pronounced mini me)
The advanced technology used in the minimi solution, breaks down fat cells resulting in a reduction of fat and inches from those difficult areas on the body.
Targets fat reduction in specific problem areas
Permanent fat loss not fluid !
Results seen in a hour
Fat reduction continues for up to 72 hours
Improves skin tone, tightens and firms
Reduces the appearance of cellulite
Drop a dress size in a single treatment !
Key points about the Minimi
minimi main fat bursting ingredient contains phospholipid complex solution.
minimi has an active ingredient that works on cellulite.
minimi has a geranium infused essential oil fragrance; this is an uplifting and sweet floral aroma.
Minimi – The facts
The active ingredient in minimi is phospholipid complex and is more active than most other inch loss wraps.
The main fragrance in minimi is Geranium and has an anti cellulite agent.
The membrane used is a special type of heat inducing film wrap, wrapping techniques allows for specific areas of concern to be enhanced treatment.
All solutions will come with full instructions/customer care/ client information hand-out.
The active ingredient is activated by heat. i.e. heated blanket under couch cover, then blanket/throws. Optimum temp is 40 degrees.
For maximum results we recommend a six week course. There is no need to have shower facilities, as solution remains in the skin, and active, for 3 days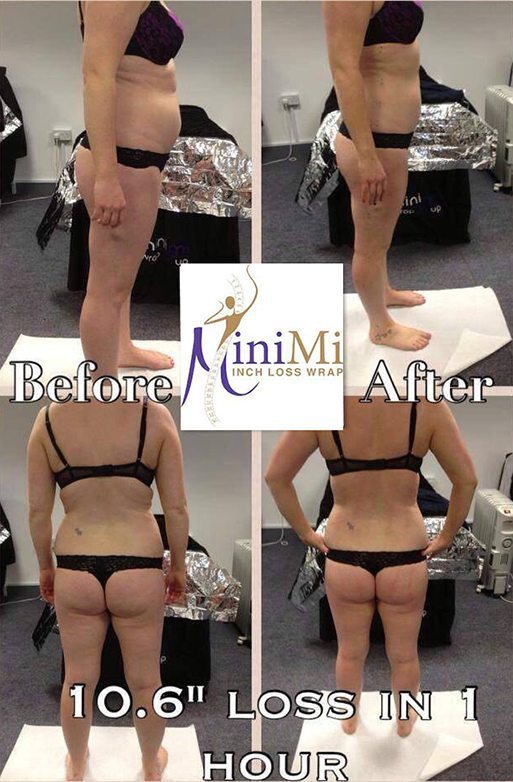 Frequently Asked Questions
How does it work?
Minimi Body Wrap is a painless, effortless process that has the power to remove 8 inches in one treatment.
How long does it take? When can I see results?
Minimi Body Wrap is so powerful that a 90 minute session can shrink waistlines by up to 2 inches. The amount of fat reduction varies depending on your build, but many people may reduce by a least one whole size after the first treatment. Immediate results can be seen. After the full 3 days, you will see the maximum effect.
Are there any side effects?
Slight increase in urination for 1 to 2 days after treatment.
Will the results last?
Minimi is an excellent jump starts to a new and slimmer you. For the fat to come back, new fat has to form which would happen if a person continued to eat excess calories. Combine the minimi with exercise and healthy eating for optimum results.
How often can I have a treatment?
We recommend starting off with a treatment twice in the first week , then once a week for the rest of the course of 6.
How many sessions will I need?
It depends. Most clients require maintenance treatments once or twice a year after the initial course of six treatments.
How does minimi vary from similar wraps on the market?
It is the high percentage of the Hydrolysed Lecithin and anti-celliute ingredients, which outworks anything currently available on the market.
It is oil based?
The oil is infused with organic ingredients to give a skin treatment at the same time. No messy bandages which also absorb product. No chemical smell.
How long does the effect last?
The solution will continue working for up to 3 days but bear in mind 20% in one application can only burn a limited amount. Once the fat is gone it is gone. It will only come back if you make new fat. We would not expect the treatment to last very long if, after a treatment, the client then over indulged or returned to their eating patterns which caused the fat in the 1st place. Prolonged use is necessary to achieve maximum reduction of fat. It removes fat but does NOT tighten loose muscle.