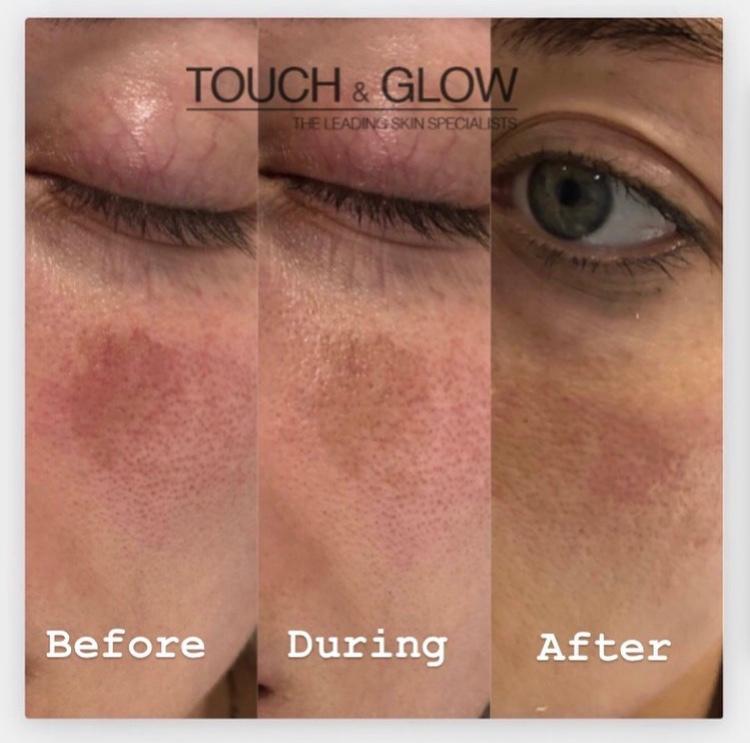 Laser Pigmentation Removal
Laser pigmentation removal works by directing high concentrations of light into pigment problem areas, causing the targeted imperfections to absorb the heat, darken and flake off in a matter of days.
This leaves you with a more even skin-tone, and a brighter appearance.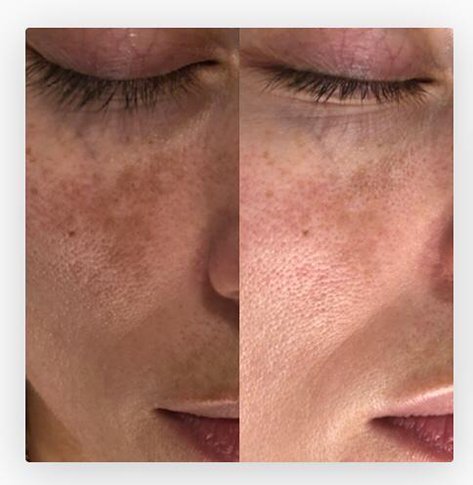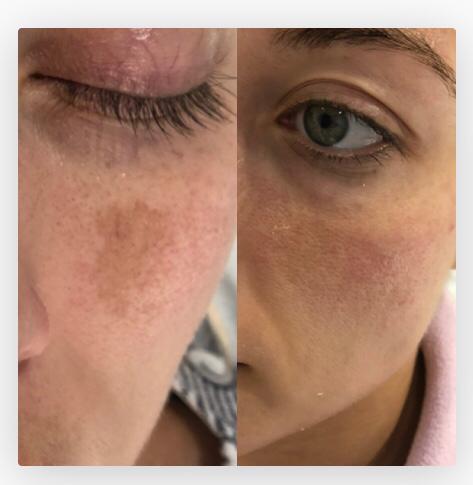 How laser pigmentation removal works
The Candela gentlelase produces a wavelength of high energy light, which is then converted into heat energy. This can target the specific area of pigmentation because the laser is absorbed only by cells containing an excessive concentration of pigmentation. This causes efficient destruction while leaving the surrounding tissue undamaged.
Pricing
| | Cost Per Session | Pack Of 2 Sessions |
| --- | --- | --- |
| Patch Test | €30 | N/A |
| One Small Area | €90 | €150 |
| One Large Area | €120 | €220 |
Laser pigmentation removal benefits include:
Minimise or eliminate the appearance of skin pigmentation
Treats body and face areas
Minimal side effects/recovery time and make-up can be worn after treatment
Consultation and patch test
This is probably the most important part of your treatment, on consultation we check through your medical history, assess your skin and hair to ensure you are suitable and answer any questions you may have regarding treatment.
We want to make sure you have all the relevant information to allow you to make an informed decision that laser is right for you. After your consultation you should be equipped with all the knowledge you need to understand how laser works and the science behind it.
Your patch test is also vitally important as it allows us to test your skin for any sensitivity from the laser and also will ensure you are a suitable candidate for treatment. If you are putting your trust in us and investing in Laser we feel it's only right that we invest the time to explain things fully and make sure all your questions are answered.
Preperation & aftercare
Avoid exposing the area to direct sunlight for 2 weeks prior to your treatment and always protect the skin with sunscreen.
Avoid exfoliating and resurfacing products and treatments 5 days prior to treatment
Avoid products with salicylic/lactic/glycolic acid 5 days prior to treatment
Prep for consultation and Patch Test
Have no active or false tan on the area to be treated
Have no make-up on area to be treated on day of treatment
Prep for first session
Have no active or false tan on the areas been treated
Have no lotions or potions on the skin
Have no make-up on area to be treated
Aftercare
There may be some mild heat and redness in areas that have been treated. Soothe any redness and sensitivity with Aloe Vera gel, this will continue to draw heat out of the skin and keep the area cool and hydrated. Aloe Vera gel can be applied liberally for 3-5 days or until the skin has returned to its pre-treatment state.
Avoid exposing the area to direct sunlight for 2 weeks after your treatment and always use SPF to protect the skin and maintain results.
Avoid picking any scabbing or lifting on the treated area.
Avoid all exfoliating/resurfacing treatments 5 days after treatment
FAQ
Environmental factors, sunlight, ultraviolet rays, hormonal changes, and some medications all contribute to pigmentation changes. These can range from freckles, sunspots, age spots to melasma and can occur on the face or body at any age. When the body produces either too much or too little melanin, this results in hyperpigmentation or hypopigmentation which appears as a dark or light mark on the surface of the skin.
Any area of your face and body can be treated. The most common areas are face, neck, hands, chest and shoulders, which typically are the most exposed areas to the damaging effects of the sun.
We advise a minimum of 2 Laser Pigmentation Removal treatments to achieve the desired results. During your consultation, your nurse or therapist will advise you on what to expect during your course of Laser Pigmentation Removal.
The level of discomfort can vary depending on a person's sensitivity, but most clients tolerate the treatment very well with little discomfort.
The Candela Alexandrite 755nm laser is only absorbed by cells containing an excessive amount of pigmentation, so the laser does not target any surrounding tissue, thus causing no damage. Your Laser Pigmentation Removal treatment will be performed by a highly trained and experienced nurse or aesthetic therapist, so you can rest assured you are in safe hands.
Sun damage also referred to as skin pigmentation conditions are caused when the body produces either too much or too little melanin. The result of this is Hyper/Hypo pigmentation which is light or dark marks on the surface of the skin. Hyperpigmentation lesions can be present as sunspots, freckles to melasma and can occur on the face or body in both men and women.
The most common pigmentation conditions include:
Sun spots – also known as age spots and lentignes
Freckles – also known as ephilides
Melasma – brown patches on face
Depending on your skin type (and the lesion being treated) some redness and swelling may be visible, but will usually subside around 48 hours after treatment. A normal response is that the treated area may appear darker and flake around 5-7 days later. During treatment, some patients may feel a mild discomfort.
Pigmentation may be treated every 3-4 weeks, a detailed plan will be given after consultation.
Most clients experience satisfactory results within 2-3 treatments.
We advise daily use on SPF and topped up every 2-3 hours to prevent further pigmentation from surfacing so further top ups and treatment is not needed.