Collagen Stimulation Therapy
Collagen Stimulation Therapy is an advanced skin treatment which involves the use of tiny needles to create micro-wounds in the skin. This stimulates the production of collagen and elastin harnessing the body's natural powers of healing to smooth the skin and achieve incredible results on all areas of the face and body.
This cutting-edge treatment is especially effective for addressing the following:
Visible signs of ageing,
Acne scarring
Slackened skin
Stretch marks
Uneven skin tone
Dilated blood vessels.
The body responds to CST in the same way it would react to an injury. The small amount of bleeding caused during treatment is what releases powerful growth factors which are part of a natural healing response, resulting in increased collagen and elastin production.
During this revolutionary procedure, your skin therapist will apply a topical anaesthetic to ensure a comfortable treatment. This aesthetic is left on for at least 30 minutes to ensure you are numb & feel nothing throughout your treatment. We then roll over the skin using a sterile roller with 1mm needles to penetrate the skin, rolling repeatedly in different directions across the treatment area to create minute channels which breach the dermis. This causes a minimal amount of bleeding that stops within minutes which is stimulating growth factors to produce both Collagen & Elastin for maximum results. This is followed by a mini peel, vitamin infusion & a fabulous mask to finish which helps to cool & soothe the skin while receiving a relaxing hand & arm massage.
With this treatment you must 'Bleed To Succeed!', however the treatment is pain free with a 3-5 day healing phase, leaving the skin feeling and looking plumper and healthier.
Sessions are usually 60-90 mins duration & We do highly recommend combining the skin needling alongside the Dermalux LED Light Treatment after each session, to boost your results & speed up the healing process
Having just one treatment may not make any dramatic changes so for best results we recommend a course of either 6 or 12 treatments along with taking collagen boosting vitamin supplements.
Clients can return to work the day after treatment with no outward signs other than flushed skin, similar to the appearance of mild sunburn.
Clients must be using a topical Vitamin A moisturizer for at least 3 months prior to having this treatment. Using homecare products before and after the treatment is mandatory to further promote healthy growth factors, collagen and elastin.
Patch test and consultation is required.
1st  CST Treatment €250
2nd CST Treatment €220
3rd CST Treatment €190
Discounted course packages are also available which must be paid in full on or before first treatment – for prices please consult with your Skin therapist.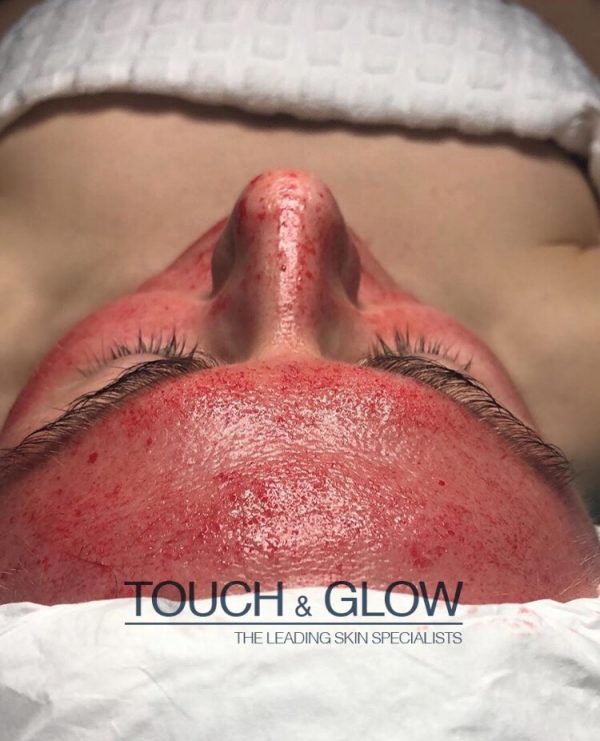 Collagen Stimulation Therapy Results